Children's Dentistry Wangaratta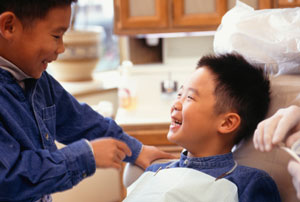 Just as your child needs regular paediatric appointments, it's essential that they see the dentist from the time their first teeth emerge. By becoming familiar with the facilities and team members at Michelson's Dental Surgery, they'll learn proper oral hygiene habits and enjoy their checkups. In fact, we encourage you to bring your little ones in with you at your appointments. We'll offer them "free rides" in the dental chair to get them excited about their checkups!
Lifelong Healthy Smiles
From an early age, your child will be comfortable in the dentist's office. We'll screen them for oral health concerns, catching potential problems early when they're less costly and complex. You and your child will also be educated about pregnancy and oral hygiene, tooth decay, the premature loss of baby teeth and more. The services we offer include
Examinations and cleanings
Fillings
Crowns
Space maintainers
Appliances to prevent night grinding
Preventative orthodontics
Together, we'll ensure that your child has a no-stress, pain-free experience that keeps them relaxed and looking forward to their next checkup. At the end of their visit, they'll be given a hygiene gift pack that will help them take care of their teeth and gums.
How Can We Help You?
Everyone deserves to have a happy and healthy smile that will last for a lifetime. We'll do all we can to help your child maintain their optimal oral health. Contact our practice today to get started!
CONTACT US »
* Any invasive or surgical procedure may carry risks. Before moving forward, it is recommended that you seek a second opinion from an appropriately licensed medical professional.

Children's Dentistry Wangaratta | Michelson's Dental Surgery | (03) 5721 8033