Meet Our Team at Michelson's Dental Surgery

Your Wangaratta Family Dentists
Our diverse and friendly Michelson's Dental Surgery team allows us to provide your family with gentle care in one convenient location. Each of our six Wangaratta dentists works alongside you to ensure all of your concerns and priorities are met so that you can enjoy a comfortable and relaxing care experience.
---
Dr Wilson Chen B.D.Sc. – Melbourne University 2010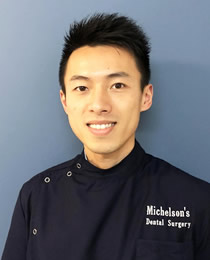 Wilson was born in Shanghai, China, and migrated with his family to Australia at the young age of 11. Growing up in Melbourne, Wilson quickly grew accustomed to the vibrant culture and lifestyle there, and was very proud to call Australia his new home. After completing his high school education, he went on to study Dentistry at the University of Melbourne and graduated in 2010.
Now a very focused and dedicated dentist, he always gives 100% to each patient under his care. Wilson has developed a very loyal patient base since joining our practice, building a rapport with patients of all ages. Professionally, Wilson takes a keen interest in participating in continuing professional development courses. He is always learning about new techniques and technologies in the field of dentistry, in order to provide his patients with the best possible treatment and care.
Since graduating from University, Wilson has completed many additional accredited dental training courses including Progressive Orthodontics Seminars and ClearCorrect Invisible Braces. He also has a very keen interest in cosmetic dentistry including veneers, dental crowns & bridges as well as dental implant restorations.
Wilson has been the Chairman for the Northeast Dental Group of the Victorian Dental Association since 2015. He is closely involved in organising continuing professional development seminars for all the local dental professionals, and actively campaigns for better oral and dental health awareness in the local community.
Wilson has been a local resident of Wangaratta since 2010. In his spare time, Wilson enjoys soccer, jogging, reading and track days at the Winton Raceway. He also loves travelling and exploring the fine food & wine regions of the North-East country.
Languages spoken: English and Mandarin


Dr Valerie Cheong B.D.Sc. – Melbourne University 2011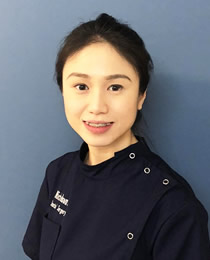 Valerie started out her dental career at Northeast Health, where she gained invaluable experience working in a team environment to look after patients from the local community. She gained an appreciation for preserving everyone's natural dentition for as long as possible, offering many treatment options to reach that goal.
Since joining our team at Michelson's Dental Surgery in 2014, Valerie regularly receives compliments on her gentleness when providing dental treatment. Her friendly demeanor can calm even the most anxious patients. Up to date with her continuing professional education, she can often be found attending various accredited courses to expand her knowledge and clinical skills. Valerie has a keen interest in orthodontics and is able to provide our patients with traditional braces or clear aligners.
Valerie grew up in Brunei, and moved to Melbourne in 2007 to pursue her education in Dentistry at the University of Melbourne. When asked about Brunei (which happens very frequently), Valerie describes it as a small country with a close-knit population. It is no wonder that she quickly became acquainted with our lovely town when she moved to reside in Wangaratta in 2011. Now a part of the local community, Valerie enjoys exploring all the beauty the North-East region has on offer, in particular, its delectable wines.
Languages spoken: English


Dr Catherine Yao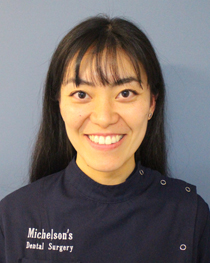 Dr Catherine Yao graduated from the University of Melbourne. Catherine's aim as a dentist is to ensure patients are calm and comfortable in the dental surgery. Catherine has an inherent and unwavering enthusiasm in hearing about different people's stories and experiences. She strongly believes achieving optimal oral health requires a team approach, so she will definitely want to learn more about you during your dental appointment!
Catherine enjoys practising all aspects of dentistry, but performing crown & bridge restorations and aesthetic procedures are of particular interest to her. She also really enjoys looking after our younger patients. She believes that encouraging good oral health at a young age is crucial, and it is always a fun challenge to bring out the twinkling laughter in children!
Seeing the dentist can be a daunting experience, and Catherine understands this. Her dental appointments have been described as "mindfulness" sessions, and many of her patients have expressed their gratitude regarding her gentle care and supportive demeanour. To Catherine, acknowledging and managing your mental hurdles are as important as managing your teeth!
If you like the occasional boogie and spontaneous karaoke session, Catherine is definitely your go to person. When not at work, Catherine loves going out for a jog while singing along to the latest pop songs!
Languages Spoken: English, Mandarin, Cantonese


Dr Janna Ling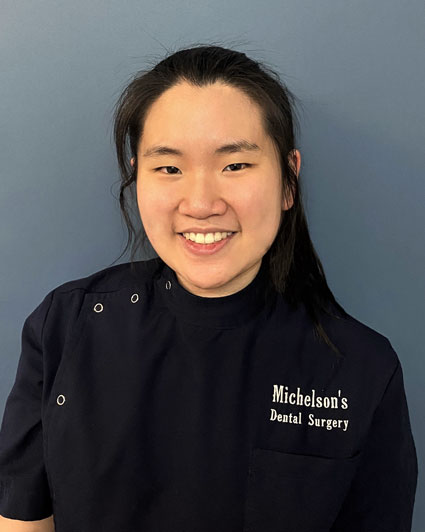 Dr Janna graduated from La Trobe University with a Bachelor of Health Sciences in Dentistry/ Masters in Dentistry. She decided to pursue dentistry after observing a dentist during high school and learned about the profound impact dentistry has on an individual's confidence and self-esteem.
Janna enjoys all aspects of dentistry but has a particular interest in restorative dentistry and oral surgery. Known for her outgoing nature, she strives to create positive and comfortable experience for patients. She is also passionate about providing patient centred care by tailoring her treatment plans according to her patient's needs. To Janna, compassion, honesty and desire to achieve clinical excellence are qualities that make an excellent and trustworthy dentist. To achieve these goals, Janna regularly attends professional development courses to stay up to date with the advances in dentistry.
In her spare time, Janna enjoys singing, listening to music in particular Broadway musicals, playing badminton, exploring local cafes and playing the occasional video games.
Languages spoken: English, Mandarin Chinese, Malay.


Dr Minal Thatikonda (Dr Minnie)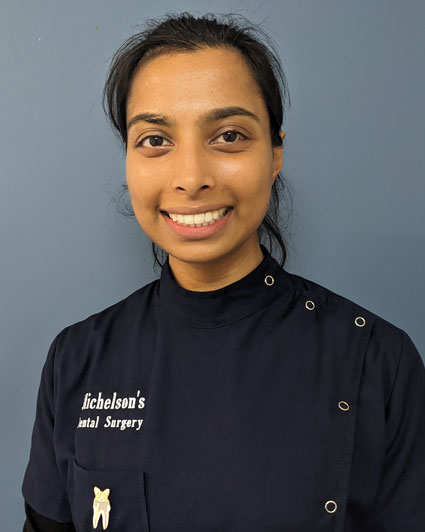 After moving to Wangaratta in 2019, Minnie has practiced dentistry in surrounding towns before joining the team at Michelson's Dental Surgery. Though born and raised in Melbourne, Minnie has happily taken to regional living and hopes to remain local for the foreseeable future.
Minnie takes great care in providing quality dental treatment for her patients. She is dedicated to continuing her professional development by routinely keeping up with the latest developments in the dental field. Her focus is largely based in root canal and crown work, but she enjoys all aspects of general dentistry. She understands the dental clinic can be an unfamiliar and uncomfortable space for some patients, and she strives to alleviate anxiety and encourage health related autonomy.
We encourage young families to seek treatment with Minnie. Preventative education and treatment are foundational to long term dental health. Minnie takes the time to ensure kids understand the value of a healthy smile and reiterates these lessons with each recall visit.
She loves to share a laugh and has always found that the North East regional community enjoys partaking in the same. In her downtime you might find her enjoying a brewed chai with extra honey with her husband at Paulie's Corner Café because even a dentist can love the taste of sugar!
Languages spoken: English
Book Your Consultation Today!
Get to know our friendly Wangaratta dental team for yourself by scheduling your next checkup with Michelson's Dental Surgery.
Contact us now on (03) 5721 8033.

Meet the Team at Michelson's Dental Surgery | (03) 5721 8033