Crowns and Bridges Wangaratta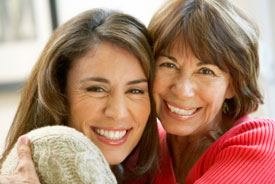 The team at Michelson's Dental Surgery offers you a broad array of dental solutions to meet your needs. With experienced dental professionals who have an eye for detail, we'll help you achieve your dental goals. One such option is crowns and bridges, which will restore the look and function of your smile.
Dental Crowns for Stability
A cap or dental crown covers an existing tooth that has been compromised by damage. Trauma, ageing, decay and more can cause your tooth structure to wear down. Rather than resorting to extraction, we offer dental crowns that will make your tooth strong again.
Dental Bridges to Fill a Gap
Missing teeth can affect your self-esteem and make you want to hide your smile. A dental bridge is a cost-effective way to regain your smile. It involves several dental crowns attached to each other, which are connected to teeth on either side of the missing tooth or teeth. Then, a crown is suspended into the gap so that you can chew, smile and speak as you like.
Financing Available
With so many services available, we have the skills, equipment and knowledge to make over your smile. We offer financing through MediPay with the minimum loan starting at $2000. Contact us today to book your appointment!
CONTACT US »
* Any invasive or surgical procedure may carry risks. Before moving forward, it is recommended that you seek a second opinion from an appropriately licensed medical professional.

Crowns & Bridges Wangaratta | Michelson's Dental Surgery | (03) 5721 8033