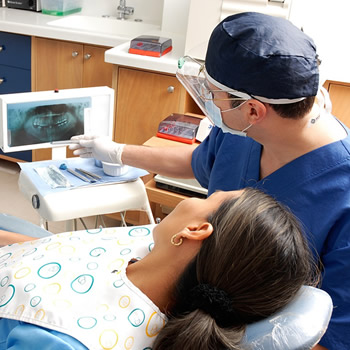 A throbbing toothache waking you up in the middle of the night. A tooth that gets knocked out while play sport. These and other dental emergencies can happen anytime. At Michelson's Dental Surgery, we provide prompt emergency care to get you out of pain and back to your busy day.
Until you can get into the office to see us, here are 6 common dental emergencies and our recommendations for addressing them:
1. Knocked-Out Tooth: It's critical that an avulsed tooth be treated straightaway. That's because reinsertion is possible in many cases. Try to locate your tooth immediately. Then, place it in a sealed container, wholly immersed in milk or saline. If possible, try to reinsert the tooth into the socket without forcing the tooth. Be careful not to touch or clean the roots, as doing so can damage the fibres that assist in reattachment. You just need to briefly rinse the tooth to remove any noticeable debris. For optimal results, come to our office within an hour.
2. Broken or Chipped Teeth: If only a portion of a tooth breaks off, it may be possible to affix it back into place. Find the fragment and store it in a sealed container, entirely submerged in milk or saline. Then, bring it to our office within 1-2 hours.
3. Dental Abscesses: If you have a severe toothache accompanied by swollen gums, it's likely you have an abscessed tooth. If so, it's essential that you have it drained. You also may experience a bitter taste in your mouth that accompanies the infection. The best treatment for an abscess is a root canal. We also may prescribe an antibiotic to decrease the pressure that's causing the pain.
4. Damaged Dentures: Though dentures are made of durable material, they still can become damaged. While denture repair kits are available, we discourage taking a DIY approach as that could cause permanent damage to the acrylic. Instead, bring your denture to our office to determine if a repair is possible. If it isn't, we can discuss what's involved in having a replacement made.
5. Crown or Filling Damage: From eating sticky foods to biting into a crunchy food, restorations such as crowns and fillings can sometimes get damaged. If you have a cracked or broken crown or filling, refrain from chewing on that side of your mouth until we've made a repair. We can't place a damaged filling back into a tooth. Crowns, however, can be reused in many cases. To avoid misplacing it, store your crown in a zip-top bag and bring it to our office straightaway.
6. Swelling or Bleeding: Some dental injuries are associated with the soft tissues, such as your gums, lips or cheeks. We'll assess your tooth to make sure it's not damaged. Then we will discuss if any small sutures are required. Until you can get into our office, apply a cold compress to the area, using firm pressure to lessen bleeding or swelling.
* Any invasive or surgical procedure may carry risks. Before moving forward, it is recommended that you seek a second opinion from an appropriately licensed medical professional.